Planning to introduce a new system to manage your data center infrastructure? A crucial aspect to ensure successful data migration into the new system is improving current data quality. yandree developed DeeCeeSqueezer to minimize the work involved and to make migration successful.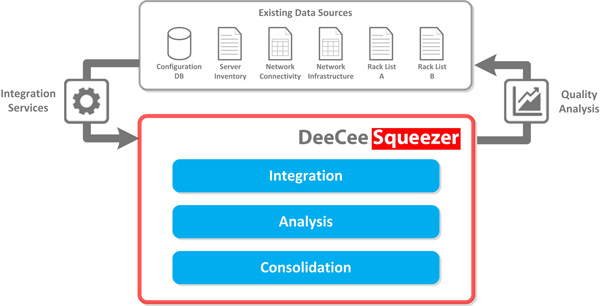 Who is it for?
DeeCeeSqueezer is for anyone currently documenting in several different systems and planning to migrate their data to a new, comprehensive system (CMDB, DCIM). DeeCeeSqueezer checks the quality of your data, improving it where necessary, thus ensuring that it is ideally prepared for transition to the new system.
How it works
DeeCeeSqueezer is deployed before the actual data migration phase . It analyzes the quality of the different data sources, providing clear information about what needs to be done in order to achieve sustainable improvements, and monitors the growing quality of your data. At a glance you can see how informative your documentation currently is and what you need to do to increase quality, above all with regard to interaction between the various data sources.
How does this help the user?
Improvement of data quality is separate from the migration project
Consolidation and quality enhancement take place before you introduce a new software system. Separating these two projects is an important factor for success.
Identify requirements to be met by the new target system at an early stage
During the analysis of the current data landscape, the program identifies requirements to be met by the new system, incorporating them into the selection or initial customization of the system.
Increase ease of planning and success of migration projects
Data consolidation and quality enhancement is a project with several factors which cannot be timed exactly. By decoupling this process from the actual data migration phase, it can be planned more effectively and implemented more successfully.
Target systems are populated with high-quality data
Because the introduction process involves practically no project pressure, there is more time for preparing the data more efficiently and ensuring far higher quality.
Increased efficiency of data correction
DeeCeeSqueezer prioritizes the errors with the greatest impact on overall results. This allows you to make more efficient use of the time available for fixing errors.
Actual data migration can be performed in a very short time
The time from replacing the old documentation to using the new system is optimized. The target system is populated from a single data source. Mistakes due to different versions and incorrect links are made evident and rectified ahead of roll-out.
Insights into DeeCeeSqueezer Further details
Further Information