Which devices are in a rack? What is the power supply for a rack and how is it protected? Where do certain virtual servers run? A switch needs to be changed – which devices and services are affected? How many devices of a certain type and age do we have at a certain site?
Who should be interested in DeeCeeSpot?
DeeCeeSpot is aimed at clients who would like to quickly and easily access information about infrastructure, which is maintained by different staff members or divisions in diverse documentation systems. DeeCeeSpot does not replace existing documentation tools but integrates diverse documentation data in one user-friendly web portal.
How does this work?
DeeCeeSpot does not replace existing documentation systems: it integrates diverse documentation data in one central, user-friendly web portal. With DeeCeeSpot you can collect, validate and display data from different sources within their greater context: Master Data Management for infrastructure documentation.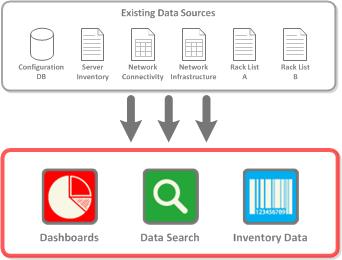 How does this help the user?
All data available in one central tool
The data are still maintained in a decentralized manner, but can be retrieved from and analyzed in one central portal.
Retrieve and analyze data at any time
No more waiting! Instead of waiting for over-worked staff members to generate the reports you need, the data is readily available at any time.
Data necessary for the decision-making process are always available at your fingertips
All the necessary data are readily available, which is crucial for taking important strategic decisions more quickly.
Added value for previous investments
Existing documentation systems can be used in a more efficient way, creating added value for previous investments in such systems. There will be no additional project or training costs for new systems.
Users maintain data as always
Without your staff members having to adapt to new documentation systems, you have access to higher quality information.sher.
Improvements in data quality
The data are not only integrated in one central tool, but are also validated and improved.
Preparation for a possible future migration of data into new systems
In case you decide on introducing a new system at a later date, your data is prepared for the migration into a new system in the best possible way.
Insights into DeeCeeSpot